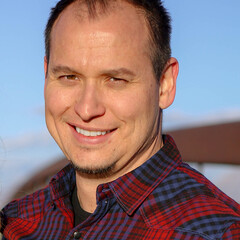 Brian Hall
Environment Artist - Senior Level - Twisted Pixel Games
Austin, United States
Summary
Currently part of the creative art team at Twisted Pixel Games.
Former Lead Environment Artist on Fer.al. I worked closely with the Concept/Feature Lead to realize the Cities and Interiors for the game. I oversaw all the 3D assets that go into these environments and manage various team members that contribute to these levels. Environments range from intimate interiors to a mix of exteriors with expansive terrains.
In 2020 I spearheaded a workflow change for the Accessory/Sanctuary Team introducing new tools to use in Fer.al that helped speed up production time by 45% per asset.
In 2019 I lead a small team of 10 people in the internal "WildWorks Innovation Day" taking first place for an internal prototype.
I was put in charge of all the interiors (Dens/Parties) and Pack Hideouts for Animal Jam: Play Wild at the start of 2017. I still manage this title as well as work closely with external vendors, overseeing assets for those same areas for our monthly content drops.
Skills
3D Animation
3D Modeling
Digital Sculpting
Environment Modeling
Lighting
Texturing
Software proficiency
Productions
Video Game

Fer.al

Year

2019

Role

Lead Environment Artist

Company

Wildworks
Experience
Environment Artist at Twisted Pixel Games

Austin, United States of America

Lead Environment Artist at WildWorks

Salt Lake City, United States of America

January 2017 - April 2020

I am currently the Lead Environment Artist on our new title releasing in 2019: Fer.al. I work closely with the Concept/Feature Lead to realize the Cities and Interiors for the game. I oversee all the 3D assets that go into these environments and manage various team members that contribute to these levels. Environments range from intimate interiors to a mix of exteriors with expansive terrains.

In 2020 I spearheaded a workflow change for the Accessory/Sanctuary Team introducing new tools to use in Fer.al that helped speed up production time by 45% per asset.

In 2019 I lead a small team of 10 people in the internal "WildWorks Innovation Day" taking first place for an internal prototype.

I was put in charge of all the interiors (Dens/Parties) and Pack Hideouts for Animal Jam: Play Wild at the start of 2017. I still manage this title as well as work closely with external vendors, overseeing assets for those same areas for our monthly content drops.

Senior Environment Artist at Wildworks

Salt Lake City, United States of America

August 2015 - December 2016

Helping create the 3d environments for the mobile platform of the Animal Jam game.

Adjunct Professor at Neumont University

Salt Lake City, United States of America

June 2016 - September 2018

Adjunct Professor teaching introductory courses on animation and 3D modeling and game development practices to engineering students. Helping them to learn the basics to enable them to create assets for their own prototypes and projects.

Senior 3D Artist at IGT

Las Vegas, United States of America

Helped the Las Vegas branch move from flash based games to Unity. Also will be helped to create real-time 3D games using the Unity platform. Responsibilities include modeling, texturing, lighting, animation, FX and UI.

Adjunct Professor at UNLV - University of Las Vegas

Las Vegas, United States of America

Helped to establish the 3D Animation/Content Creation for the Art Department at UNLV. Taught one spring course and worked on a remote/hybrid course that would be used.

Contract World Builder at Avalanche - Disney Interactive

Salt Lake City, United States of America

Worked on contract at Disney Interactive in Salt Lake as a World Builder for marketing on the Disney Infinity project. Also have helped with game assets when time allowed on various playsets.

Lead Artist at Pipeworks Software

Eugene, United States of America

Lead artist on the following titles: U Draw (first phase of U Draw), Deadliest Warrior: The Game, Deadliest Warrior Legends, Dancing with the Stars: Keep Dancing, Unannounced Web Based Fishing Game